Benefits of Turmeric & 6 Ways to Add it Into Your Diet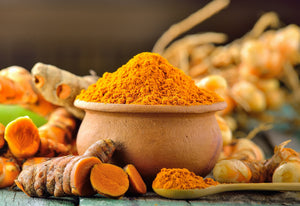 If you've heard of turmeric, the first thing that may come to your mind is that it's a spice that is commonly used in curry. However, this spice is also well known for its health benefits. So what is turmeric good for and how can you incorporate it into your diet? Read on to learn more about this special yellow spice!
What is Turmeric
Turmeric is an herb that grows in India and Central America. This herb also looks very similar to ginger. This spice has a long history in Ayurvedic medicine and is often used to treat health issues such as pain, fatigue, and inflammation. The reason being is that Turmeric contains anti-inflammatory and anti-oxidant properties. Now, at times you might hear Curcumin associated with Turmeric. So what is that? Well curcumin is found within turmeric and is what  gives this herb its bright yellow color. It also makes up only about 5% of turmeric and most of the herb's health benefits actually comes from curcumin.
Benefits of Turmeric
According to many studies, this herb may help support your heart, joint, & brain health as well as fight against other diseases. Because of its anti-inflammatory properties, many studies show that this herb may potentially help to treat inflammatory conditions, improve joint tenderness and swelling. In another study, curcumin given to obese mice with type 2 diabetes helped to lower their blood insulin after about 4 months, so some researchers suggest that it could help in lowering high blood sugar, reducing high cholesterol, and preventing type 2 diabetes. Some preliminary research have also suggested that turmeric may help with weight loss, but it is still uncertain if it can actually help in this area.


How to Incorporate Turmeric in Your Diet
There are many other ways you can try to incorporate turmeric into your meals, here are five:
1. Scrambled Eggs - You can add a pinch of turmeric into your scrambled eggs.


2. Roasted Veggies - Toss a pinch of turmeric with vegetables such as cauliflower, potato, kale, cabbage, and other root vegetables.


3. Rice - Add a dash of turmeric powder into your rice pot.


4. Smoothie - You can add fresh or powdered turmeric root into your smoothie or juice. The strong taste of the spice can be easily hidden by the other flavors in your smoothie.


5. Tea - You can buy turmeric teas or you can try this popular turmeric tea milk. Simply blend turmeric powder, coconut milk, and other spices such as cinnamon powder or raw honey if you like some sweetness.
For those who don't want the hassle of figuring out what type of dish to make just to incorporate turmeric into your diet, another popular method of consumption is to simply take turmeric supplements. If you are looking into a turmeric supplement, you can check out FarmHaven's Turmeric Curcumin. Since a significant amount of turmeric is often lost as soon as you use the toilet due to poor absorbability and quick metabolism, FarmHaven incorporates BioPerine, a black pepper extract to enhance curcumin absorption and maximize bioavailability. Check with your doctor to see if Turmeric Curcumin with BioPerine is right for you.