Milk Thistle Benefit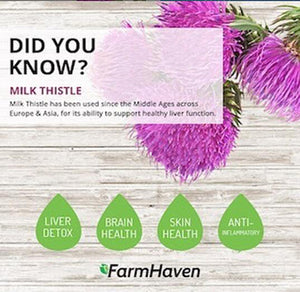 Are you a liver lover? Do you believe that liver is as important as the heart?

  Milk thistle is a powerful herb for liver support. It provides great antioxidant protection. It lowers inflammation and improves detox functionality of the liver.

  The extract of the milk thistle seeds which is rich in flavonoids is collectively known as Silymarin. This supplement is believed to have possible benefits for liver health because it encourages healthy cholesterol synthesis and it has free radical fighting properties. Milk thistle can also increase enzyme glutathione levels which reduces liver scarring because of it being anti-fibrotic and aids in regeneration of the liver tissue. Balancing hormones, such as estrogen is also a known function of our liver. Hence, adding milk thistle in your diet for liver support will also help in hormonal health.

  For people with cirrhosis of the liver, milk thistle is also believed to extend their life expectancy. Silymarin, considered to be 10 times potent as Vitamin E, increases the activity in red and white blood cells, hence, also increasing the immunity and oxygenation in our body with is beneficial especially to those suffering from liver diseases.

  The extract contains various fatty acids and it is high in antioxidants, it can also remove toxins and pollutants from the body and avoid free radical damage, hence, reducing disease risk. It delays aging because it has shown to support healthy brain function and bone health. It could potentially be used as well to help treat difficult condition of people with AD-Alzheimer's disease. Milk thistle may be able to decrease the number of amyloid plaques in the brains of those with AD. The substances in milk thistle make it useful for protecting brain function.

  Progressive bone loss may cause Osteoporosis. It slowly develops in time, over the number of years and it causes the bones to be fragile and weak. With several studies, it is found to show that milk thistle helps to stimulate bone mineralization and found beneficial in preventing bone loss.
Oxidative stress plays a role in the development of acne, which is a chronic inflammatory skin condition. It is not dangerous though, but it usually leaves scars and might be painful to some. Because of the anti-inflammatory and antioxidant flavonoid properties of milk thistle, it is suggested that it will be a useful supplement for people with acne or other sort of skin condition.

  Researches also suggest that milk thistle aids in guarding insulin resistance and helps in lowering the blood sugar levels in people with diabetes. Silymarin is found to help reduce fasting blood glucose levels and bad cholesterol when given to patients with diabetes. Milk thistle has high concentration of beneficial fatty acids and omega-3s. These components are essential for heart health as it enables the balance of the cholesterol levels in the body which can help prevent atherosclerosis, therefore, reducing the risk of heart disease, specific to heart attack or stroke to people.

  Milk thistle is also found to help improve the function of gallbladder and kidneys as it purifies the body of metabolic waste, hence, also reducing the risk of gallstones.

  The supplement scavenges free radicals and chelates free iron and copper. It helps improves the integrity of the power generators of the cells. It helps to promote healthy digestive function. Milk thistle increases bile production from the liver, which then helps protects the intestinal lining. The additional bile aids in breaking down the fat in the small intestines and alleviates inflammation. It will then be useful for managing the symptoms of IBD – Inflammatory bowel disorders.

  The enzyme formation is aided by taking milk thistle as a supplement. When our body has enough enzyme needed, it helps improve the health of the mucous membranes in the body. This will then reduce inflammatory stress in the bile duct. When this happens, it allows the gall bladder to improve its overall function and permits complete bile release.

  Overall, this supplement is not only beneficial to liver lovers, but also to those who would want to protect and nourish their well-being!