How Important is a Good Sleep?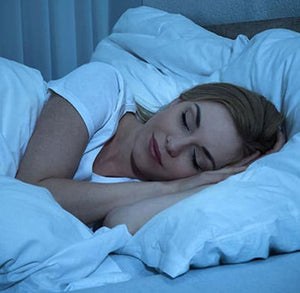 Do you ever wonder what happens when you are asleep? We tend to think that when we are sleeping, our body and mind shut down. However, that is not the real case. Sleep is an active period or state in which a lot of important processing, strengthening and restoration happens. During this time, our body is working to support healthy brain function. This is why sleep plays a vital role in our health and overall well-being. The way we feel while awake is partly dependent on what happens while we are sleeping and on the quality of sleep we had. It can also affect how well we react, think, work and interact with others.
Recovery. Our body recovers from the wear and tear of life during sleep. Long period of sleep allows our body to restore and rejuvenate. The cells busily regenerate themselves, it grows muscles, repair tissues and other functions like breathing, our heart rate and body temperature tones down to conserve energy.
Brain Function. A good night's sleep improves learning. It helps the brain to function and work properly which includes concentration, cognition and productivity. While you are sleeping, your brain is getting ready for the next day. Sleep aids to enhance our problem-solving skills and our ability to make decisions and be creative. Sleeping supports the brain to commit new information to memory through a process known as memory consolidation and it also increases our ability to concentrate.

Physical Health. Our body functions and metabolism are being regulated with the help of sleep. Deprivation of sleep is strongly linked to weight gain. It is one of the greatest risk factors of obesity. A sleep-deprived person has disrupted daily fluctuations in appetite hormones, causing an increased or higher level of ghrelin – a hormone which stimulates the appetite (make you feel hungry) and a decreased or reduced level of leptin – a hormone which suppresses the appetite (make you feel full). Hence, those who doesn't get an adequate sleep tend to have the level of ghrelin goes up and eat more calories. Aside from the impact of sleep in our weight, it also affects how our body reacts to insulin. Sleep deficiency may result to higher blood sugar level which then increase the risk for diabetes. As sleep involves healing and repair of our heart and body vessels, sleep deprivation and deficiency is also being linked to an increased risk of high blood pressure, heart disease and stroke. It can change the way our immune system responds. A sleep deficient person may have trouble fighting common infections due to poor immune system and may not be able to strongly defend the body against harmful substances.
Emotions and Social Interactions. Too little sleep will leave you too tired which lead to lack of willingness to do the things you need to do and reduces the ability to interact socially. A sleep deprived person has a reduced adeptness to recognize expressions of happiness, anger, sadness or other emotions. There is less power to identify important social cues, hence, the absence of social interaction.
It is very evident that an adequate sleep is one of the pillars of good health along with proper nutrition and exercise. Our overall wellness is greatly affected by the quality of sleep we are having day by day. Always make time for rest and a good sleep, it is incredibly important and one of the best things you can do for your health and will surely pay off.