8 Tips to Make Winter Running Less Miserable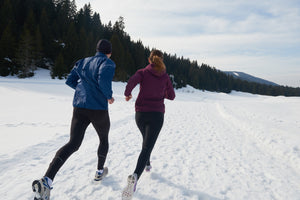 With the temperature suddenly dropping it can be all too easy to go from having frequent mile runs with the sun shining brightly above you to chilly, grey overcast days where you don't even want to get out of your warm, cozy bed. However, don't fret! There are ways we can continue to keep up our running habits even in the winter! With the right gear and motivation, you will come to enjoy your winter runs more! Here are eight tips of how you can make the best of your runs during the chilly season.
Set a Motivation Goal
What better way to get yourself out of bed and out into the cold for a run than luring yourself with a reward? It could be as simple as going to your favorite cafe for brunch after your run. Or make arrangements to run with a friend! You can't slack off when you know there's someone waiting for you. If anything, tell yourself that you will try it out for a few minutes and if the weather is that bad you can come back inside. In most cases, you will end up staying out until you're finished with your run.
Warm-Up
One the main reasons we don't feel as motivated to go out and run is because we feel cold. However, before you start your runs, try warming up inside your house. You can follow an online YouTube warm-up video tutorial or simply run/jog around your house, walk up and down your stairs, jump rope, clean, or anything that gets your blood flowing. Once your body is warmed up, you won't feel as cold when you go out for your run. If you're meeting up with a group of running buddies, don't stand outside of your car chatting while waiting for the rest to show up. Chat inside the car while you wait instead so that you can keep your bodies warm and ready for the run.
Wear the Right Footwear
No one likes soggy socks that can lead to frozen feet. So, one great way to prevent yourself from dreading your winter runs even more is to wear the correct shoes. Find a pair of winter running shoes that have a waterproof membrane on the upper side so that it can withstand the rain, snow, and sludge. It is also a good idea to make sure that the footwear has a reliable grip that will help guard against slipping and sliding. If your feet gets cold easily, wear socks that wick away wetness but can still keep your feet warm.
Dress Code
A good rule of thumb is to dress like it's slightly warmer outside. You don't want your clothing to be too warm where you are sweating so much that you get the chills and catch a cold. It's okay to be slightly cold when you start because once you start running, you will heat up and should feel just about right. Try to dress as if it is about 10 to 20 degrees warmer outside and make sure your outfit is ventilated and moisture wicking. The more you run outdoors in the cold, the more you'll know what clothing works best for you.

Run Safely
During the winter months, there is limited daylight access, so in most cases you may find yourself running when it's dark or dimly lit. Make sure to wear clothing that is easy for drivers to see. You can wear reflective or fluorescent gear, headlamp, or even carry a small key chain flashlight as you run. It's better to be safe than sorry.
Change Quickly Post-Runs
As soon as you slow down and stop running your body temperature will begin to drop. To prevent chills and the possibility of getting sick, make sure to pack an extra pair of dry, warm clothes you can quickly change into after your runs. If your hair is wet, make sure to put on a dry beanie. Have some hot, steamy tea, coffee, or soup in a thermos that you can sip right after your runs to not only warm you up but also refuel yourself. Didn't get a chance to prepare anything? Perhaps you can hit a coffee shop nearby right after your run and quickly change in the bathroom and relax with some coffee and sandwich.
Running in the Rain
If your winters consist of mostly rainy, overcast days, then it may be good practice to always bring an extra spare shoes, socks, clothes, and towels in your car that you can quickly change into after your runs. Hate the feeling of wet feet as you run? Try slipping your feet into plastic bags and then put your foot into your running shoes. In this way, your feet can stay dry even if the insides of your shoes get wet.
Be Balanced
Sometimes it's more than just how far or how quickly you run. For the winter season, it may be more practical to adjust your running goals. Aside from trying to find a warmer place to run (such as an indoor gym), perhaps you can shorten your runs but run more than once a day. In this way, you can still get the same amount of exercise you normally get in a day's run instead of doing your usual long 5-mile run where you freeze and feel miserable.