6 Tips to Protect Your Lips During the Winter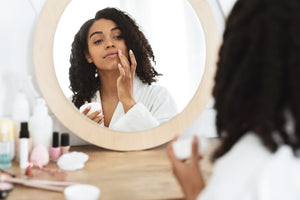 During the winter months, your lips can take a huge hit even with all the lip balm you're applying. With all the heating turned on indoors and the cold, chilly winds outdoors, it's no wonder that your lips can get dry & tight. Here are some tips for extra tender loving care that you can take to prevent those painful, cracked lips.
1. Don't Lick Your Lips
It can be all too easy for your to lick your lips when they start to feel dry. However, that actually creates the opposite effect. When you put saliva on your lips, it can actually make them dry out even faster & become more dry. Our saliva contains digesting enzymes that are actually irritating to the lips. So, if you can, avoid licking your lips.
2. Choose the Right Lip Balm
Make sure to choose a lip balm that is ointment-based as this can help heal cracked lips. Check for ingredients such as petrolatum, essential oils, glycerin, and sunscreen. Lip balms with shea butter, cocoa butter, & coconut oil give lips natural protection from heat & pollution. Even during the winter season, your lips can still get burned from the sun so making sure your balm contain sunscreen is essential. Also, make sure to look out for ingredients such as camphor, eucalyptus, and menthol. Although these ingredients may initially make your lips feel soothing, it can actually dry out your lips and make it worse. Toss out expired lip balms.
3. Avoid Biting/Peeling Flaky Lips
We know. It's very tempting when our lips are flaky and there's a piece sticking out that we just want to smooth down by ripping it or biting it off. However, this will just worsen the cracks or create sores. Instead, try applying a very heavy ointment-based balm to heal your lips.
4. Try a Homemade Natural Lip Scrub
You can exfoliate the skin on your lips gently with raw sugar! Here's a simple DIY honey sugar lip scrub you can try:
1. Simply mix the following ingredients in a bowl & transfer to a container with a lid. Use within 2 weeks:
2 tsp. sugar (raw/brown/regular white sugar)
1 tsp. honey (raw/manuka honey)
1 tsp. carrier oil (almond oil, olive oil, coconut oil)
2. Apply to lips with fingertips and massage into your lips to gently.
3. Then rinse off with warm water & follow-up with lip balm.
5. Stay Hydrated
One of the most common culprits of dry skin is not drinking enough water. Make sure that you are drinking 8 glasses of water a day or however much your body needs may help benefit your dry lips.
6. Apply Before Bed
Make sure you apply a good quality lip balm right before you head to bed at night. Many of us sleep with our mouths open - so eight hours of breathing in and out of your mouth throughout the night can seriously dry out your lips. If you have a humidifier at home, you can consider leaving it on during the night, especially if you have the heater on as well.