7 Self-Care Ideas for Spring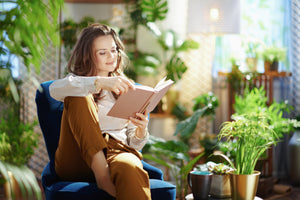 Time is ticking by incredibly fast and it's already May! Have you taken some time to reflect on how you have been taking care of your mental and physical health? If you feel like you've somewhat fallen behind, no worries you can still start making a change to your overall wellness today. So...before the lovely spring season ends, try out these seven spring-inspired self-care ideas.
1. Gardening
There is just something so therapeutical about digging around in the soil, planting seeds, and removing old stalks or leaves. It just really sparks joy! Live in a high-rise or apartment complex where you don't have the luxury or a backyard garden? You can still enjoy the perks of gardening with indoor plants! Filling your home, here and there, with luscious greenery can do much to boost your mood and give you a feel of gardening. So look up online to see what types of plants are easy to grow and hit your nearest nursery. Try not to go too crazy and grab too much, it will take some dedication and time each week to look after these lovelies, so be balanced and have fun!
2. Spring-Cleaning
Yup. It's never too late to do the annual spring cleaning! Bring out your inner Marie Kondo. She has so many amazing cleaning and organizing tips that can really help you declutter and finally feel like you have room to breathe! I think one of the most important concept is to throw away stuff. More is less. So go through all the stuff in your house, or you can start little by little with just your closet, and look for items that you haven't worn or touched or used for over a year. Perhaps it's time for them to go. Keep only the items that really spark joy in your life and feel happier being surrounded only by the things you really love!
3. Fill Your Home With Flowers
It is spring after all! When some of the most beautiful, stunning flowers are in full bloom, why not bring it into your homes? One of the ultimate spring self-care tips that gives your home a taste of spring is treating yourself to a trip to the flower mart! Put your flowers into simple vases around the house and feel your mood instantly perk up.
4. Make Time to Go Outside
With the pandemic, many have switched over from commuting and working at the office to working remotely at home. And, although there are definitely several perks to working from the comforts of your home, staying seated for hours and stuck indoors over long periods of time is actually detrimental, not only to your physical health but also your mental health. Make time during the day to go out and take a short 10-15 minutes walk around the block. Even if it's chilly, throw on some extra layers or your favorite coat and enjoy the fresh air and much needed sunshine. You can also plan outdoor activities on the weekend such as working out, reading a book, or journaling at a nearby park.
5. Eat Well
With the spring season, there are so many fresh vegetables you can add into your daily meals! Food is a vital part of our self-care habits so head to your local mart and find out what fruits and veggies are in season. Look up new recipes to incorporate these seasonal vegetables. Aside from eating fresh foods, sometimes our bodies aren't able to absorb all the nutrients it needs from the food we eat. That's where supplements come in. We absolutely love FarmHaven Women's Multivitamin which contains 22 essential vitamins and minerals that every women needs. It also includes B-vitamins, vitamin D, digestive enzymes, and whole fruits & veggies to support your overall health.
6. Change Your Home Scent
Did you know that scents can do much to set the mood in your house? If you don't already use various essential oils, candles, or mists to add some refreshing aromas in your home, go out and get some! You can choose bright scents such as rose, jasmine, and mint that's just perfect for the spring mood. However, don't go overboard and eagerly spritz too much into your home as it can be overwhelming for some and even give you a headache.
7. Revamp Your Skincare
Just because you're spending more time in the house doesn't mean you can slack off on your skin care. For those who have been good and keeping up with their daily skin care routine, well done! However, it's always good to change it up to fit the season that you're in. So, if your winters were harsh and cold, you may have been using thicker creams to keep your skin moist and protected. Now, as the weather warms up, it might be time to swap it out for something lighter. You may even want to start using serums that help target blemishes due to the sun. So adapt and switch up your routine to what fits your skin and the current weather conditions.
We hope that these seven spring-inspired self-care habits can help improve your overall wellbeing.